Jerusalem jewelry, also called messianic jewelry, has been used by the Jews since ancient times. However, recently, the use of these jewelry pieces has grown to be loved by many in and outside Jerusalem.
At first, Jerusalem jewelry was made solely for adornment, but it is now converted and reflects religious symbols used in Jewish ceremonies.
Should you add this fashion item to your Jewelry box? There is still more to talk about on Jerusalem jewelry; in this article, you will get all the vital information you need.
To hear the entire article for your convenience, click the play button.
What is Jerusalem Jewelry?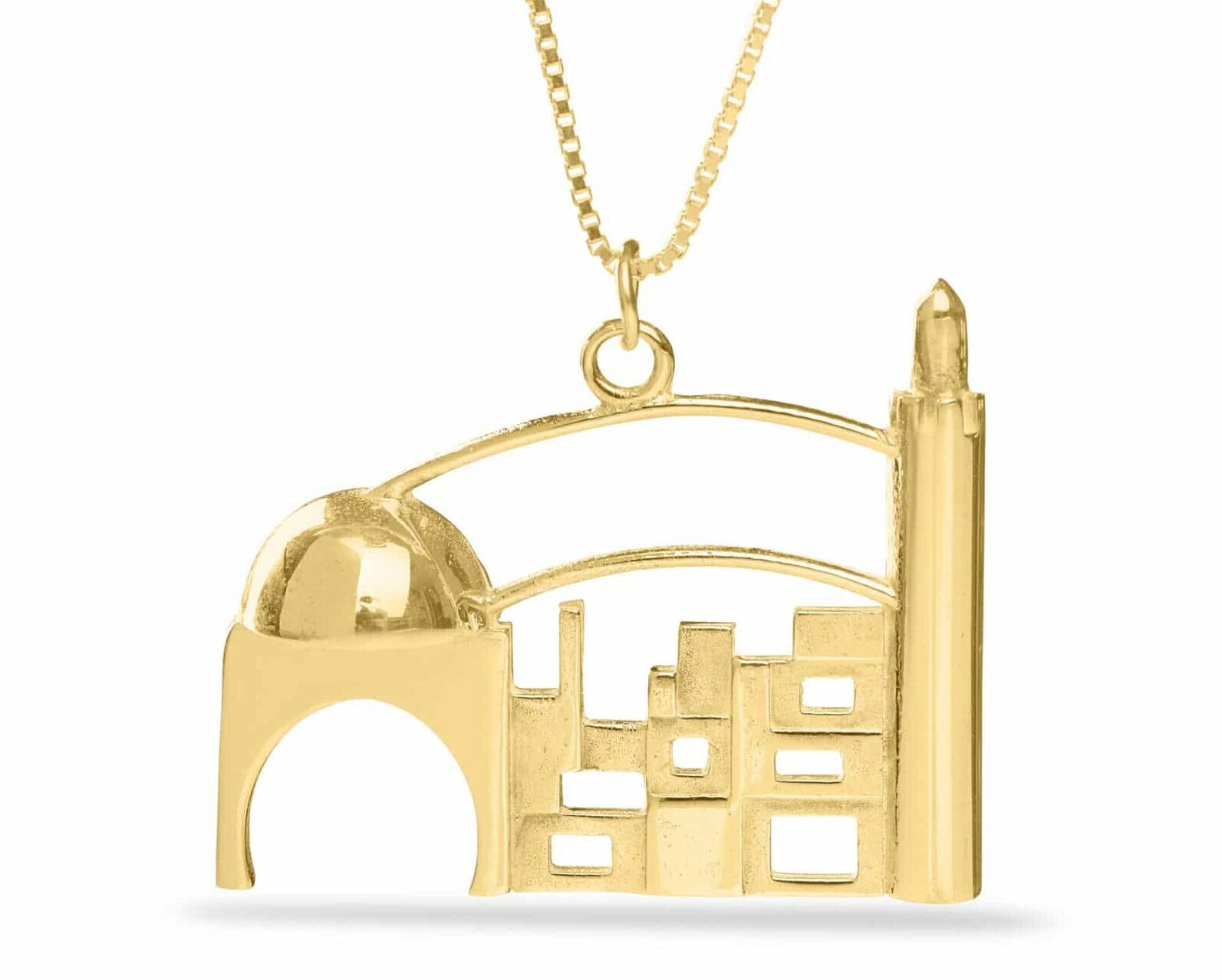 Jerusalem jewelry is believed to convey spiritual messages to humans. Little wonder they have successfully become a part of society today, especially in Jerusalem.
They are called messianic, which is used to depict a Messiah in which the Jewish nation has hope and believes that he is coming. 
Jerusalem jewelry is also used in Christianity as a spiritual symbol. These jewelry are essential in Christian worship and Judaism and can be applied to both situations.
Some themes display the same elements that makeup Jerusalem, such as the western wall, the Jerusalem skyline, and the city's ancient buildings.
This jewelry from Jerusalem is a fashion item and a tool for passing a message to the wearer. 
The jewelry collection is available for males and females, and for anyone who always wants to have a holy place close to the heart, Jerusalem jewelry is perfect.
Apart from being a masterpiece fashion item, the holy land Jewelry Jerusalem is spiritual and used in Jewish ceremonies.
What are the Benefits of Wearing Jerusalem Jewelry? 
Jerusalem jewelry is not the regular jewelry you find in Jerusalem Jewelry stores. These are unique pieces of jewelry crafted, each with a special message that will benefit the wearer.
The messages conveyed by these adorable ornaments can bring healing, upliftment, joy, and spiritual direction to the person wearing them.
This messianic jewelry comes in spectacular designs and forms. They fit just any outfit you wear and give you that graceful look when you step out.
Embellished with Jewish signs and symbols further increases its spiritual significance and appeal. Jerusalem jewelry represents a perfect blend of fashion, religion, and tradition, crafted as jewelry.
Gifting one another a piece of Jerusalem jewelry shows love, oneness, and good wishes. 
Also, some of this Jerusalem jewelry has prayers inscribed on them. As it sits comfortably close to your heart, it evokes feelings of belief, hope, and spiritual awareness.
How do I Choose the Right Piece of Jerusalem Jewelry for Me
Jewelry is an accessory used by both males and females. Regarding various jewelry options, Jerusalem jewelry has different collections ranging from earrings, bracelets, rings, necklaces, etc.
Artists make these jewelry pieces in Israel to represent Jewish history, beliefs, and culture.
The type of jewelry you will wear will depend on the look you want to achieve. 
To achieve a classic outlook, you must look for Jewelry with Jewish blessings and prayers inscribed. The symbol it portrays should proudly show off the Jewish identity. 
Suppose you want to wear jewelry depicting Jewish symbols, such as the Star of David, the Evil Eye, Mezuzah, the Tree of life, etc.
These symbols are timeless and beautiful, and it is for multiple occasions. If you want something spiritual yet trendy, look for those with Jewish prayers, such as the traveler's journey, Shema, and the Priestly blessings inscribed.
You can be inspired to shop for fine jewelry from Jerusalem that shows Israel's holiest areas, like the Western Wall and Jerusalem city.
Whether you want to buy a ring, necklace, or bracelet for a loved one, some jewelry is made with romantic inscriptions that can be given as a valentine's gift or wedding gift.  
How do I Care for My Jerusalem Jewelry?
Taking care of your Jerusalem jewelry and treating them as a precious possession is vital to keep it looking new and lustrous. Caring for your jewelry follows some simple steps which are as follows: 
Wear your makeup before putting on your jewelry because these cosmetics and hair sprays contain chemicals that will harm your jewelry. It is advisable to wear your jewelry after putting on your makeup and doing your hair as it limits exposure to these chemicals.
Avoid situations that will expose your jewelry to the water in the pool. Pool water has lots of chlorine in them, which tarnishes your jewelry.
It would be best to have your bath with your Jerusalem jewelry on. The chemicals in your soaps can cause a film on your jewelry, reducing its allure and beautiful shine.
Keep your jewelry in a safe box that won't mix up with other belongings. Use a soft lining to the bottom of the box before laying your jewelry there.
For Jerusalem gold jewelry, use a soft cloth to wipe out oils and stains at the end of each use. Silver jewelry requires extra care, so it's advisable to use silver polish to keep your jewelry's shine.
What is The History of Jerusalem Jewelry?
Over the last 20 years, the Jewish nation from where they are found worldwide yearned and prayed for rebuilding Jerusalem.
They pray that Jerusalem and the temple will be restored to their former glory. 
One famous piece of jewelry used in Jerusalem in the 60s and 70s is Grafted jewelry, called Jerusalem jewelry.
This is because the grafted symbol is said to have originated in Jerusalem as a symbol used by the early Christians in the 2nd Century. 
Since then, the symbol has been used to depict people coming together in a Jerusalem setting for religious and traditional ceremonies.
Where Can I Find Jerusalem Jewelry?
There are many Jerusalem Jewelry Stores to find Jerusalem jewelry, but it's best to shop at our Jerusalem jewelry website.
One unique thing about shopping at the Israeli Center of Judaica is that you will find savvy Jewish-Israeli artists that make well-crafted Jerusalem jewelry. Jews worldwide can now have a place to find the best jewelry items. 
JGP210
The company has selected the best talents with different fashion styles, materials, and skills. We understand the Holy city and the art of jewelry and have successfully created a blend of these two to give customers the best.
If you are looking for where to find Jerusalem jewelry, no worries. It will be a pleasure to shop for your Jerusalem jewelry at the Israeli Center of Judaica.
This is where you will find some spectacular masterpieces that will give you the perpetual feeling of the holy city.
Apart from the variety of artists there, you have a lot of choices to pick from at the store. If you want personalized Jerusalem jewelry, the artists will deliver it according to your taste.
There is always a new invention and style, leaving you spoiled for choice. The staff there are cautious and welcoming, and with our company, it's always a splendid time to shop.
Our Jewish jewelry collection is not limited to Jewish people; we ship items to different parts of the world.
How Much Should I Expect to Pay for Jerusalem Jewelry? 
The holy City of Jerusalem is best described as a city of Gold. Owning a fashion item like the Star of David jewelry, whether a ring, pendant, or bracelet, keeping this city close to the heart is memorable.
If you visit our jewelry stores in Jerusalem, each item has different prices. Be assured that you will get fine Jewelry from Jerusalem, the best deals worth your money.
The price for silver or gold Jerusalem jewelry depends on the one you are buying. The jewelry is decently priced. 
A 14k Custom Length Wheat Chai necklace costs $192. 
The 14K beautiful Star of David Diamonds costs between $ 855 to $1023. 
A 14k Gold and Diamonds Star of David Diamond costs between $388- $428. 
14k Gold 3D Name Necklace with Colorful Enamel costs $652-$748. 
These are a few pieces of jewelry with prices. You can check our Jewish jewelry gallery for more exquisite options.
Are There Fake Jerusalem Jewelry Products on the Market?
Fashion accessories have seen lots of counterfeit products in the market today. Like other types of jewelry, fake Jerusalem jewelry is displayed in significant markets and stores. 
You will always see that these counterfeit items are cheap compared to the original prices in the market. Most people know these are fake products and still buy them despite apparent signs. 
That is why you should buy from a credible Judaica seller, where you can be assured of getting the original Jerusalem jewelry. Knowing these fake products will guide you through buying your Jerusalem Jewelry.
Conclusion
Wearing jewelry is an essential aspect of fashion that people wear to complement their attire. Regions and countries worldwide have their unique way of making jewelry, but Jerusalem jewelry goes beyond having beautiful designs. It now represents an object used in Jewish worship.
You can find many stunning pieces of Jerusalem jewelry, each with unique themes and inscriptions. Wearing it symbolizes that you agree with the redemption of Jerusalem and Jewish culture.