While Hamsa jewelry has boomed in popularity in the past decade, the Hamsa motif is actually an ancient symbol of luck and protection, which has been used by Jewish communities for centuries. Interested in keeping up the tradition? Keep reading to learn more.
To hear this whole article without effort, please click the Play button
What is a Hamsa?
A Hamsa is a hand-shaped amulet, originally intended to protect its wearer from the evil eye. Often, it has an eye motif in the center of the palm. The name 'hamsa' comes from the Arabic word for five, referring to the five fingers of a hand. The design is still popular as an amulet, and is often hung up in Middle Eastern households, attached to key-rings, and even dangled from car mirrors. However, it is perhaps most popular in the form of Hamsa jewelry.
The Israeli Center of Judaica offers a variety of designs featuring this symbol, including 14K gold Hamsa necklaces, filigree earrings, and silver rings. To learn which design best suits your needs, read on!
What Is The Evil Eye?
Have you ever been told that it's rude to stare? There is an ancient belief, still held by some communities today, that people can cast the 'evil eye' upon others, usually by looking directly at them with jealousy or hatred. This 'evil eye' would lead to sickness, harm or death for the person it was cast upon. Therefore, communities began to adopt amulets to protect the wearer from these evil gazes. Among these amulets were the first articles of Hamsa jewelry.
The term 'evil eye' is also used to describe another kind of charm that wards off these evil spirits. This charm consists of a series of concentric blue circles with a black pupil in the centre, symbolising an eye. The ancient belief is that the eye would stare back at the jealous person, warding away their gaze.
Check out our collection of evil eye jewelry
Is the Hamsa a Jewish symbol?
The Hamsa is not exclusively a Jewish symbol. It is popular all around the Middle East, North Africa, and the Mediterranean. However, the Hamsa has been used by Jewish communities for many years, and has a lot of specifically Jewish significance. In fact, one of the first-known predecessors of the Hamsa symbol is in an 8,000 year old burial cave from the Kingdom of Israel. Over time, the Hamsa became a common sight in the homes and lives of ordinary people in different Jewish communities. From medieval Spain to modern Israel, the Hamsa has graced prayer books, marriage contracts, Torah cases, and wedding jewelry. It can also be seen used as a Wall Hanging.
What Does a Hamsa Symbolize?
The Hamsa has different connotations among the cultures it belongs to. In Judaism, it has a mystical connotation: the number 5 refers not only to the number of fingers, but also the number of books of the Torah, and the numerical value of the holy letter hei. The distinctive palm shape itself may have had connotations with the hands of the priests, the hand of Miriam, or the hand of God. But to all the cultures that have embraced it, Hamsa jewelry is ultimately a force of luck and protection.
Should the Hamsa Be Worn Up or Down?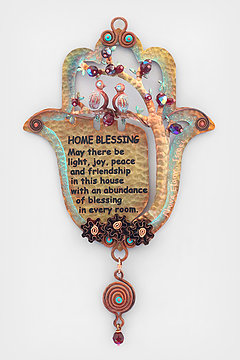 The hamsa can be worn either up or down, and it is traditional to wear it both ways. There is a superstition that wearing the hamsa up repels the evil eye, while wearing it down invites goodness into the wearer's life. When worn with the fingers facing down, the Hamsa also represents the Hand of God, reaching down from the heavens. This visual symbol is particularly associated with God rescuing the Israelites from Egypt "with a strong hand and an outstretched arm" (Deut 5:15). The downwards hand even features on synagogue decorations from the Byzantine period. Wearing the Hamsa this way can therefore have profound symbolic and religious meaning.
Protect yourself from the evil eye with a Hamsa Wall Hanging
Can I wear Hamsa jewelry?
The Hamsa design is as universal as a jewelry motif can be. It is unisex, and can be worn by nearly any age group. Recently, there has been debate over whether it is culturally sensitive to wear Hamsa Jewellery without understanding its significance. However, the symbol is not overtly religious, nor does it 'belong' to any specific group.
Who Should Wear a Hamsa?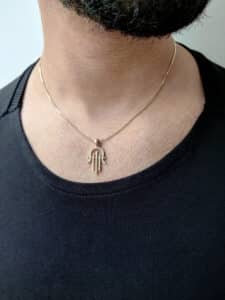 The traditional rule is that anybody in need of protection or luck should wear a Hamsa. For this reason, it historically was found around the cot of newborn babies, or on wedding jewelry. In the henna ceremony (a pre-wedding party common to Moroccan and Yemenite diasporas), brides still wear Hamsa jewelry, especially Hamsa necklaces. All of these events: births, marriages, and so on, are both happy and vulnerable, needing the Hamsa's protection to preserve their good fortune.
Nowadays, Hamsas are still used for this purpose. They can be worn or sent as a Bar Mitzvah gift, newlyweds, and expectant mothers. Often, Hamsas are simply worn on an everyday basis for constant protection. Even for those who hold no superstition or spiritual beliefs, Hamsa jewelry is still a popular choice as a symbol of cultural identity, especially for Sephardic or Mizrahi Jews. After all, the symbol has accompanied us in our daily lives since at least the Middle Ages, if not before.
What Kind of Hamsa Should I Buy?
There are many types of Hamsa jewelry on the market. You can find anything from pendants to 14K Hamsa Rings. Once it was believed that only pure metal was effective at warding off the evil eye. Regardless of whether this is true, opt for 14K gold. It strikes a good balance between higher-carat gold, which looks lovely but does not last well with daily wear, and the lower-carat, which is durable but less attractive. 14K gold also carries the advantage of a much lower risk of allergic reactions: those with skin sensitive to nickel are better off opting for at least 14 karats. Remember, gold can be yellow, white or rose in color, so all personal tastes are accommodated for.
14K gold Hamsa necklaces and pendants make excellent gifts for loved ones—or simply for yourself—as they generally fit most people's taste and are considered timeless. Aside from material, consider what size you want—small pendants suit both younger and older wearers, but larger ones can be dramatic and powerful statements for those whom they suit. Lastly, design: there are classic and delicate options, using filigree and other time-honored techniques, which would fit a traditional person; alternatively, consider a modern interpretation, to suit the open-minded and unique.
Have you seen our stunning Hamsa Earrings collection?
Is Hamsa and Evil Eye the Same?
Not quite. The 'evil eye' charm is an eye-shaped amulet, usually decorated in blue and turquoise. It is especially popular in the Mediterranean, but has a presence in the Middle East and North Africa as well. Both symbols have the same purpose: to ward off evil spirits and protect the wearer from people who wish them harm. However, the Hamsa and the evil eye are distinct symbols in their appearance and their history.
Is it Okay to Wear Hamsa and Evil Eye Together?
Yes. Many modern Hamsas actually incorporate the evil eye charm into their design, whether to double the power of the amulet, or just because it looks good. You can also stack evil eyes with Hamsa, for example by wearing two rings on one hand, by layering pendants, or by adding charms to a bracelet or necklace. Your personal style is the only limit. For example, you can wear our shiny Gold and Diamonds Evil Eye Bracelet and match it with a 14K gold minimalist Hamsa Necklace
In Summary…
The Hamsa is both an ancient symbol and a long-lasting one. It is still used to represent luck, protection, spirituality, and the endurance of Jewish custom. It can be worn by anyone, male or female, young or old, up or down, alone or with another amulet—but wearing it in any way continues a centuries-old tradition known to us from at least the Middle Ages. You can still wear it as a Hamsa Necklace or as an Evil Eye Bracelet