Over several decades, Jewish art has been how Jews celebrate several ceremonies. They use them in rituals because of their unique significance.
Judaica is one category of Jewish art. They are ceremonial items that range from Torah pointers and Jewish candelabras to tallit and candlesticks.
Some also consider Jewish folk art as another form of Jewish art. It includes things like paper cutting, calligraphy, and wood carving.
 Do you want to know more about what Jewish art entails, its history, and its significance?
Read along as this article takes you on an enlightening journey through Jewish art and everything you need to know about it.
To hear the entire article for your convenience, click the play button.
Is art allowed in Judaism?
Until the latter half of the 20th century, many commonly acknowledged that visual art could be irrelevant to Judaism.
Jewish cultural historians, meanwhile, had already shown that, even though Jewish study and worship are unquestionably logocentric, the Second Commandment's restriction on the creation and adoration of graven images does not apply equally to all forms of visual art.
Jews have not always been apathetic toward or aggressive toward visual art, including the construction and ornamentation of synagogues.
Other forms range from gravestones, illuminated manuscripts, and embroidery to liturgical seats, pulpits, and other fixtures and decorative items of religious Jewish domestic life and devotion, in addition to, since the 1900s, drawing, painting, and sculpture.
There is abundant proof of visual art in the circumstances covering Judaism's history. This happened even though there were reasonable grounds to be hesitant to accept visual art within the cultures of various Jewish eras and geographical places.
What is the oldest Jewish art?
Early Jewish artwork comprised intricate floor mosaics, embroidered scrolls, and Jewish wall art such as murals.
The surviving frescoes depict episodes from the Book of Esther, the Sacrifice of Isaac, various Genesis tales, Moses receiving the Tablets of the Law, and the Exodus of the Jews from Egypt.
Many artworks depict divine intervention or approval using the "Hand of God" theme.
Due to destruction or the absence of roughly similar examples, scholars cannot agree on the subjects of some scenes. Some theorize that the paintings were an educational showcase to explain and enlighten people on the religion's history and tenets.
Who are the most famous Jewish painters?
1.   Marc Chagall
On July 6, 1887, Marc Chagall was born in Moishe Shagal. The Russian-French artist Marc Chagall produced work in various media, spanning drawings, fine art prints, paintings, book illustrations, ceramics, stage designs, stained glass, and tapestries. He was of Belarusian Jewish descent.
Before the First World War, Marc Chagall made several trips to Berlin, Saint Petersburg, and Paris. He developed his unique fusion of traditional and modern Jewish art concerning Jewish folk culture and the idea of Eastern Europe.
During the war, Chagall lived in Soviet Belarus, where he established himself as one of the nation's most well-known artists and a key figure in the avant-garde. He founded the Vitebsk Arts College before he left for Paris in 1923.
The father of modern Jewish art and a renowned Jewish artist, Marc Chagall, is well known. The two children of Marc Chagall were Ida and David McNeil. At 97, he passed away on March 28, 1985.
2.   Sonia Delaunay
Sonia Delaunay was a French artist of Ukrainian descent who spent most of her career in Paris. She was born on November 13, 1885, and lived until December 5, 1979. She acquired her formal experience in Germany and Russia before moving to France and developing her business, which incorporates textile, fashion, and set design.
She curated the first retrospective exhibition of a living female artist at the Louvre in 1964, and in 1975 she was made an officer of the French Legion of Honor. Her contemporary design uses furniture, fabrics, wallpapers, clothing, and geometric abstraction.
A stamp honoring Delaunay's Coccinelle was released in 2004 by the French Post Office, La Poste, and the Royal Mail of the United Kingdom to celebrate the Entente Cordiale's 100th anniversary.
For his autumn 1984 collection, American fashion designer Perry Ellis produced knits and prints in delaunay hues and patterns.
3.   El Lissitzky
Lazar Markovich Lissitzky was a Russian artist, designer, polemicist, photographer, typographer, and architect who lived from November 23, 1890, to December 30, 1941.
Due to his experiments with production techniques and aesthetic themes that would later define graphic design in the twentieth century, his work profoundly influenced the Bauhaus and constructivist movements.
He was designated the Soviet cultural representative to Weimar Germany in 1921, where he collaborated with and had an impact on influential members of the Bauhaus and De Stijl movements.
In his later years, he significantly changed typography, exhibition design, photomontage, and book design, producing widely recognized works and achieving an international reputation for his exhibition design.
4.   Maurycy Gottlieb
Poland's Maurycy Gottlieb, a realist painter of the Romantic era, lived from February 22, 1856, to July 17, 1879. One of Jan Matejko's most outstanding students, Gottlieb, passed away at 23.
Gottlieb was born in Drohobycz, now in western Ukraine, to a wealthy Orthodox Jewish family that spoke Yiddish and Polish. At the time, Galicia was part of Austrian Poland.
More than 300 of his works—primarily sketches and some oil paintings—have miraculously survived his early death at 23, even though not all are finished.
His renown increased dramatically after the fall of the Iron Curtain when various Polish collections unknown in the Western Bloc rose to fame.
5.   Moritz Daniel Oppenheim
The German painter Moritz Daniel Oppenheim, who lived from January 7, 1800, in Hanau, Germany, to February 26, 1882, in Frankfurt am Main, is frequently regarded as the first Jewish artist of the modern age.
His cultural and religious history influenced his painting at a time when many of his fellow German Jews chose to become Christians.
Oppenheim became known as one of the essential Jewish painters of the 1900s thanks to his studies of Jewish life, his portraits of Moses Mendelssohn and Emperor Joseph II, and the life portraits of Ludwig Börne and other prominent Jews of the time.
What is the significance of art in Judaism?
Jewish art paintings have been used to decorate synagogues since at least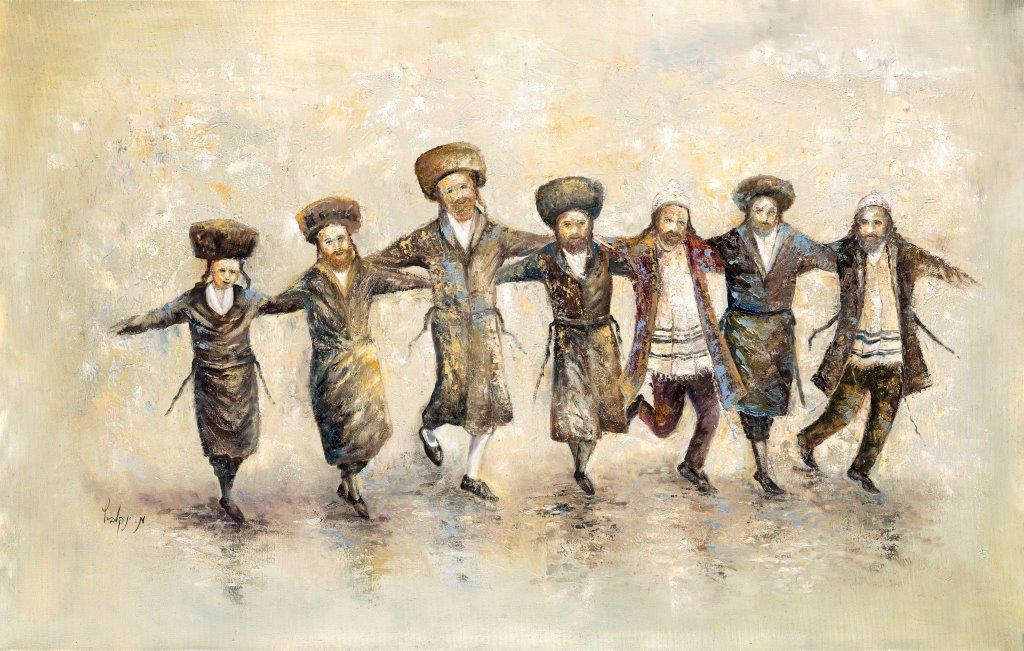 the third century CE. Marriage contracts in the Scrolls of Esther and the exquisitely adorned ketubbot emerged during the Renaissance when manuscripts were ornamented with miniatures.
Jewish houses and synagogues have long been decorated with folk art. The shivitti, a synagogue ornament designed to draw attention; the midrash, a symbol positioned on the eastern wall of the home to remind family members to face their prayers in that direction; and the practice of micrography, which employs sacred words and texts to create artwork, are a few examples of this.
Kiddush cups, mezuzot, candlesticks, and other items of artistic ritual art have all been used. Jewish artists who toiled without the luxury of formal training in the skills once used these modes of expression to reflect their folk piety. Jewish folk art has become more sophisticated recently as educated artists concentrate their talents and sensibilities on these age-old traditions.
How did the Jews make the art world?
Jewish painters emerged from the ghetto during Europe's Enlightenment to become well-known figures in the art world. Some Jewish artists did not at all include their Jewishness in their artistic work. In contrast, others demonstrated a variety of relationships with their Jewish identities in their visual arts.
Why are images of God not allowed in Judaism?
Idolatry, worshipping an idol or other created thing, is a severe sin in Judaism. As a result, God will not be shown in any art. There won't be any statues or other representations of God in synagogues or other Jewish houses of worship, as there would be in other religions.
Who do Jews pray to?
Jewish faith adheres to the belief that only one God has revealed himself through the ancient prophets. According to Jewish teachings, Yahweh, the national God of the Hebrew people and the God of Isaac, Abraham, and  Jacob, delivered the Israelites from slavery in Egypt and gave them the Torah at Mount Sinai.
What religion cannot take pictures?
Posing for pictures is forbidden under the Amish faith; some outright Amish object to having their image taken. Mainly posed images could be interpreted as a source of pride. Yet, some Amish distinguish between posing for a photograph and having one born in a natural environment. As long as they are not posing clearly, some people have no issue with being recorded or photographed.
conclusion 
Jewish art has a vibrant history dating back to the Israelites' ancient civilization. It is a product of the culture, politics, and religion that shaped this culture over the centuries.
This art reflects its time and carries important symbols and messages from Judaism. From ancient artifacts to modern paintings, Jewish art has always been integral to Jewish tradition.