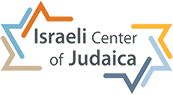 Buy Embroidered Tzitzit from Jerusalem
Buy embroidered Tzitzit with a range of beautiful designs. All the Tzitzit on sale at the Israeli Center of Judaica are made in Israel. We have garments available in all sizes from childrens (3 years upwards) to adults. You can choose from our basic Tzitzit range for daily wear, or buy a luxury garment for special occasions and Jewish holidays.
All our Tzitzit follow traditional Jewish designs, but are manufactured to the highest quality using the latest production processes. When you buy Tzitzit from our Jerusalem store, you'll receive a beautiful, hard wearing item that will last for years and years. We use only hand selected fabrics, and inspect each garment individually before shipping.
People who buy Tzitzit also buy Tallit, and Silver Tallit Clips