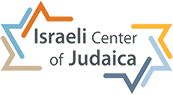 Pesach Sale on all Judaica Products!
Get up to20% Discount when you Buy Pesach Judaica Online
Prepare for the coming holidays with the Israeli Center of Judaica Pesach Sales. We've got some amazing bargains on our entire range of handmade Judaica and fine art from Israel. Check out our boutique collection of sterling silver and anodized aluminum Seder Plates, as well as our colorful ceramic Matzos Plates.
We're also offering some great deals on Silver Candlesticks, Jewish Candelabra, Kiddush Cups, and more beautiful silverware for your Pesach Seder table. Make this year's Seder an event to remember when you set the table with handmade Judaica from our Jerusalem workshop.
Buy Unique Pesach Gifts While the Sale Lasts
If you're joining friends or family for the Seder, or want to surprise someone with a beautiful and original gift, check out our Pesach deals. The Israeli Center of Judaica's handmade Judaica tableware and silverware is the perfect gift. Our Seder Plates and Matzos Plates, and Honey Dishes aren't just ornate works of art, they are hard wearing practical items designed for everyday family use. A gift from the Israeli Center of Judaica will last a lifetime.
Showing the single result