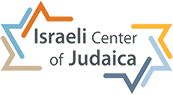 Stunning abstract art with historical, spiritual and natural themes
Internationally renowned Israeli painter Gitty Fuchs made Aliyah to Israel with her family at the age of nine. Her artistic journey was influenced by local Israeli artists, as well as Russian immigrant artists who had taught in Moscow's prestigious academies. Gitty quickly gained public recognition as a talented and original artist. Her work was displayed in Israeli art galleries, before attracting interest abroad. 
Abstract paintings by Gitty Fuchs are now sought after works of art in the United States and Canada, as well as internationally in private and corporate collections throughout Israel, the USA, Canada, Brazil, and Australia. Her paintings on sale at the Israeli Center of Judaica  feature spellbinding portrayals of the City of Jerusalem, thought provoking personal interpretations of Jewish history and culture, and hauntingly beautiful mystical and spiritual scenes.
Showing 1–16 of 157 results