Jewish art is one of the world's oldest and most varied forms of visual art. It has been practiced for centuries and will continue to be so for many more years to come. The history of Jewish paintings is an integral part of this rich tradition, but it can only be fully understood through a closer examination of their development over time.
To hear the entire article for your convenience, click the play button
Biblical Art
The Bible is full of examples of art. It's also full of examples of artists. And it's a veritable treasure trove for those interested in the intersection between Jewish art and Christian religious culture during this period.
The construction of the First Temple in Jerusalem under King Solomon is described in great detail in the Bible as the glorious work of Jewish hands. It is said to be covered in gold and adorned with cherubim (I Kings 6).
Even though the Second Temple in Jerusalem was torn down in the year 70 C.E., which marked the start of a 2,000-year Jewish exile, Jewish art blossomed in the early post-exilic period both inside and outside of Israel, including that of the Dura Europos as well as Beit Alpha synagogues. Also, well-preserved murals from the third century depicting human figures in biblical themes can be found in the temple of Syria's Dura Europos, an ancient city on the Euphrates.
To view our entire collection of Biblical Wall Hangings
Mishkan Tapestries
The Mishkan was a tent that the Jewish people built to house the Ark of the Covenant. It was a holy place, and it was where God met with Moses on Mount Sinai.
The tapestries were made of wool and silk, but they were also woven with gold and silver thread—a costly material in those days! Nevertheless, the artists who created these works considered them works of art and religious artifacts.
Women created the Mishkan tapestries and were some of the best artists in ancient Egypt. The women who made the tapestries were members of a significant religious group called the weavers. These women would weave linen cloth for most of their lives and then spend their last years creating these beautiful works of art.
Art in the Ghetto
The ghetto was where Jews were forced to live in Europe during the Middle Ages. Jewish artists were forced to paint in secret, using whatever materials they could get their hands on. They painted on walls, scraps of paper, and even the backs of old books. Their paintings were used to educate people about Judaism by showing them how much difference there is between Christianity and Judaism.
The Haskalah Movement
The Haskalah movement was a Jewish cultural movement that was active in Central Europe during the 18th and 19th centuries. It encouraged secular study, literature, and art, as well as the adoption of a modern lifestyle.
The Haskalah movement reached its peak with the publication of Shlomo Eliav's Sefer Ha-Chinuch (Book of Instructions) in 1797.
Eliav believed that education was the key to changing these negative characteristics. Therefore, he called for an end to the study of rabbinic literature, which he felt was outdated and irrelevant, and for a more modern curriculum instead.
Jewish contributions to twentieth-century art
Jewish artists were heavily involved in the development of modern art, and their work has been influential in the development of abstract expressionism. In particular, many famous painters from Jewish backgrounds were interested in exploring subjects dealing with religion or spirituality.
In addition to these subjects, there are also works by Jewish artists that explore other aspects of their culture, like food and music.
These paintings can be found in museums around the world, and they are often used as teaching tools in schools. Some of these works have become iconic images that are instantly recognizable even to people who don't know much about art history.
To view our entire collection of Jewish Paintings
Early depictions of the Torah in medieval illuminated manuscripts are considered the oldest known Jewish paintings.
The history of Jewish paintings begins with the illuminated manuscripts produced by medieval Jews. These images were created in an attempt to preserve and transmit their heritage, as well as provide a visual record of Jewish life for future generations.
Some of these manuscripts were produced in Spain, where Jews had settled after being expelled from their homeland. The most well-known example is the Sarajevo Haggadah, which dates back to the 14th century and contains over 50 illustrations depicting Jewish life in medieval Spain.
Some examples of these medieval Hebrew paintings
The Paris Mahzor was created by a Jewish illustrator around 1240.
The Sarajevo Haggadah is a manuscript that dates back to the 15th century. This book was written in Hebrew and included illustrations of Abraham's sacrifice of Isaac and other scenes from Jewish history.
The Golden Haggadah (also known as the "Lavishly Illustrated" or "Golden") is considered one of the most luxurious manuscripts from medieval Spain. It contains 24 full-page miniatures depicting stories from the Old Testament and Talmud alongside text explaining their meaning and historical context within Judaism.
The Golden Haggadah is considered one of the most luxurious manuscripts from medieval Spain.
The Golden Haggadah was made in Castilian and Hebrew around 1390 and illustrated with gold, silver, and gemstones. The manuscript has been valued at up to $20 million.
The book's current whereabouts are unknown, but it was discovered by a collector named Gabriel Antonio de Herrera y Tordesillas in 1849 when he bought it for a relatively low price of 10 ducats (about $200). It was later donated by his descendants to the Spanish royal family before being sold again in 1876 for another low price—and eventually ending up with an art dealer who sold it once more shortly after that.
Today you can see this rare piece at the Israel Museum in Jerusalem, where it's been kept under lock and key since 1961 when Israelis tried but failed to purchase it from its last owner, after which time only scholars were allowed access.
The history of art by Jews in Europe during the 19th century is tied to the history of censorship and religious freedom in the region.
The history of art by Jews in Europe during the 19th century is tied to the history of censorship and religious freedom in the region.
Jews were not allowed to study art in Germany, Italy, or Russia. In France, they were persecuted because they were viewed as having "too much talent" for their good. It's important to note that many Jewish artists did not paint religious themes—they painted landscapes and portraits instead.
It's also important to note that Jewish artists did not have a monopoly on art during this time. Many Christians were creating art, and many of them were doing so in a similar style. The difference was that Jews could only exhibit their work when they traveled outside of Europe.
Modern Judaism has been tied to modern art since its beginnings at the end of the 19th century.
The Haskalah movement, which began in Eastern Europe and spread to Western Europe, led to a new sense of freedom for Jews. Artists were inspired by this movement, which opened up new avenues for expression. They also felt they could now depict Jewish subjects and themes more freely than in previous centuries.
The Haskalah movement allowed Jewish artists to express themselves in impossible ways. However, most Jewish people still lived in Eastern Europe, and many did not share this sense of freedom. Many Jews continued to live under restrictions imposed by the Russian Empire, which had become increasingly oppressive toward its Jewish population after 1881.
Modern Jewish Paintings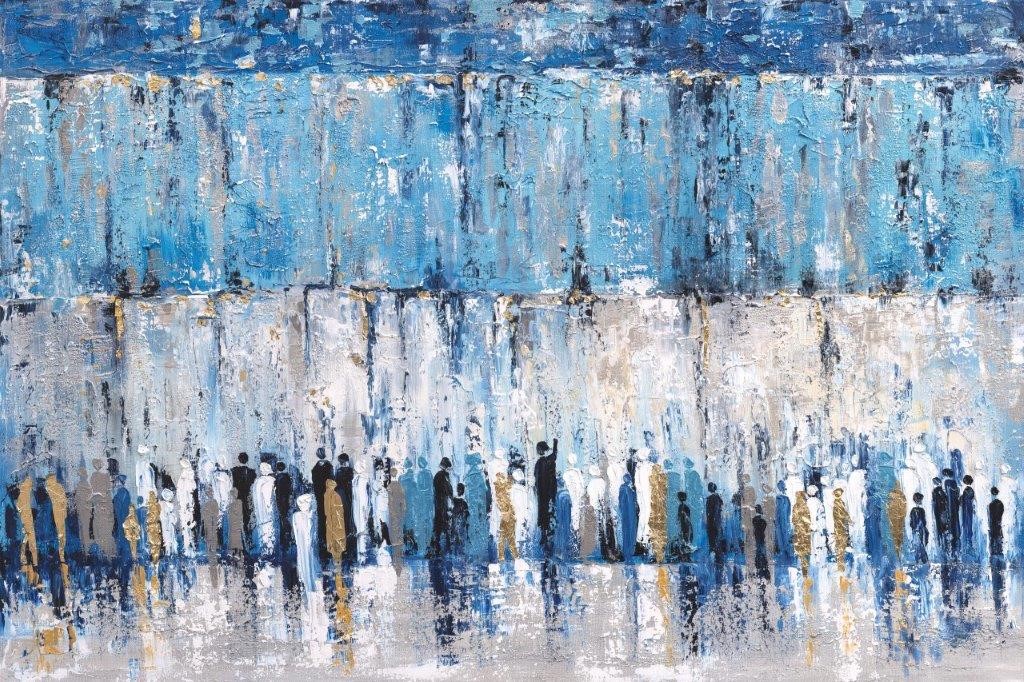 Modern Jewish paintings often depict ancient customs and culture, using rich colors and imagery. In recent years, modern Jewish art has shifted from a focus on traditionalist portrayal of religion, to include contemporary forms of expression such as digital media and collage. Many modern Jewish painters use bright hues to evoke a sense of vibrancy and life, making the artwork come alive. Meanwhile, detailed linework offers insight into our shared history by focusing on obscure facets of everyday life, like lacy windowpanes in a shtetl, or smoke rising from an outdoor market. Whether they are exploring identity through abstract concepts or challenging notions of communal affiliation through powerful symbolism, modern Jewish painters contribute to the larger discussion on how religion fits into the modern world.
To view our entire collection of Jewish Abstract Art
3D Jewish Paintings a New Era of Jewish Art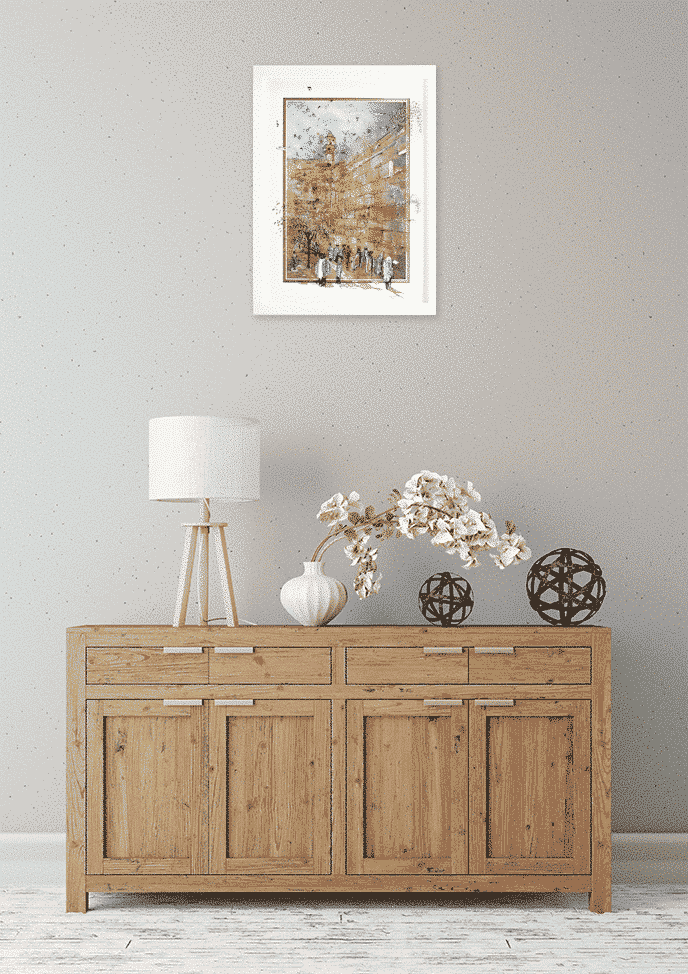 Jewish culture is full of art and creativity, and now 3D Jewish paintings are pushing this tradition to a new level. These unique paintings allow viewers to experience pieces of Jewish history in an innovative and interactive way. Using traditional Jewish symbols such as the Star of David, Menorah, and other religious imagery, these incredible works of art transform into timeless reminders of the impressive history behind Judaism. The vivid colors draw you into the story each painting conveys, captivating visitors on a journey through time. Whether it be at a museum or in your home, 3D Jewish paintings inspire audiences from all backgrounds with their incomparable craftsmanship.
To view our entire collection of 3D Jewish Paintings on Glass
Conclusion
Jewish art has always been tied to religious and cultural expression. This history dates back to the first century A.D. when Jewish artists painted images of biblical stories in Europe. Today, Jewish painters continue their tradition of creating works that connect us with our past, present, and future. Here are some you can check out.
To view our entire collection of Jewish Paintings