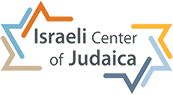 Buy Handmade Jewelry from Israel
A personal connection to Jerusalem and to Judaism
The Israeli Center of Judaica collection of handmade jewelry is a celebration of Jewish culture that includes rings, pendants & necklaces, bracelets, chains and necklaces. All our personal jewelry is worked in 14kt yellow gold, white gold and rose gold. ICOJ designs range from simple and elegant Chai pendants to intricately crafted gold filigree Hamsas and Star of David necklaces. You can also buy exclusive pavé diamond jewelry, and stunning black diamond jewelry.
Israeli Center of Judaica fine jewelry is ideal for Bar Mitzvah or Bat Mitzvah gifts, birthday and anniversary gifts, or to express your personal connection to Jewish culture and tradition. A gold necklace, bracelet or earrings is also a wonderful romantic gift! We offer both traditional craftsmanship and striking modern designs at affordable prices. When you buy handmade jewelry from ICOJ, you'll own a truly beautiful item that will last a lifetime.
Buy Eilat Stone Jewelry
Our 2022 jewelry range also features semi-precious stones like Israeli amethysts, lapis, various birthstones, and Eilat stones. Eilat stones are wonderful green-blue gemstones, also known as King Solomon gemstones. The Eilat stone is the national stone of Israel. If you love colorful jewelry, check out our 925 sterling silver Dove, Pomegranate and Tree of Life designs, inlaid with semi-precious stones and gemstones.
The Israeli Center of Judaica collection of fine jewelry is handmade in our Jerusalem workshop, situated just 15 minutes walk from the Western Wall.