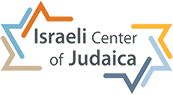 Buy Judaica Handmade in Israel
Explore the true beauty of Jewish culture and tradition
Israeli Center of Judaica products are handmade in Israel by a team of traditional craftsmen, led by third generation master craftsman and Jerusalem artist Avi Nadav. Our full range of Israeli made Judaica is a celebration of Jewish culture. ICOJ products fulfill every religious, cultural and household need, and include a boutique collection of stunning personal jewelry.
Our 2022 Judaica range offers a choice of traditional designs with ornate silver filigree, and striking modern interpretations of iconic Jewish symbols. Our craftsmen work with a variety of materials, including 925 sterling silver, anodized aluminum, and Israeli mined semi-precious stones and pink onyx.
Our online Judaica collections include Tableware, Home Decor and Jewish Ritual Items. Choose from gleaming 925 Sterling Silver Candlesticks, Jewish Candelabra and Menorahs, Seder Plates, Trays, Kiddush Cups, and Liqueur Sets.
Personal religious and ritual items include Tallit prayer shawls and Tallit Clips, Silver Torah Pointers or Tefillin Boxes, and Tefillin. We also offer a range of traditional and cultural Judaica, including Dreidels, Mezuzahs, and ornate Hamsas. Whatever your needs, or the event, we have the perfect choice of Judaica.
If you don't see what you need, contact us today to commission a unique handmade item. Our Jerusalem designers and craftsmen will turn your personal concept into a unique work of functional art!
Everything You Need to Know About Judaica
There's a misconception that Judaica is all about religious and ritual items for the synagogue, or imitation Jewish antiques for tourists. Modern Israeli Judaica certainly includes handmade religious items and ritual accessories, but that's just a tiny part of the exciting world of Judaica art. 
Modern Judaica includes designer home decor, ultra-modern tableware, the latest artwork from a new generation of talented Israeli artists, as well as designer Jewish jewelry and even handmade clothing. If you're looking for Judaica gifts, you'll be amazed at the quality and variety of modern Israeli Judaica!
What is Judaica?
Judaica is any item that's inspired by Jewish culture and traditions, or performs a practical function in Judaism. It's a broad term that covers religion and mysticism, history, and love of the land of Israel and all its natural beauty – the list is pretty much endless. 
Sterling Silver Judaica
Traditional sterling silver Judaica products like menorahs, Shabbat candlesticks, etrog boxes and havdalah sets are probably the best known examples of Judaica. Modern Israeli Judaica artists use 925 sterling silver to continue the ancient Jewish silversmithing traditions. Jerusalem is home to some of the most talented and creative Jewish silversmiths and their work is a fusion of artistic traditions from across the diaspora. 
Silver Judaica ranges from very simple and elegant styles, to complex designs decorated with intricate Yemenite filigree work. The most luxurious silver Judaica blends beautiful silver work with Israeli onyx, and handpicked purple amethysts and lapis lazuli for decoration.
The most skilled Jerusalem craftsmen also combine 925 sterling silver with cast enamel to create striking multicolored designs. Bright blue enamel set in gleaming sterling silver replicates the traditional colors of Judaism and is extremely popular. 
Sterling silver Judaica isn't limited to traditional Judaica styles. Our designers take raw silver bullion and expertly craft it into designer tableware, Jewish jewelry, minimalist silver Judaica candlesticks, trays, and men's accessories like designer cufflinks and tallit clips. 925 sterling silver is prized for its versatility and robustness and is a true 21st century design material. 
How to Buy
Judaica Gifts
If you're looking for a special gift to celebrate an event like a Brit Milah, Bar Mitzvah, Bat Mitzvah, birthday, anniversary, graduation, retirement – or just to thank a host for a holiday meal – modern Judaica gifts cover every imaginable event. There are even plenty of handmade Judaica gifts (especially Israeli art) that are ideal for non-Jews too. 
If you plan to buy Judaica gifts, it's important to understand how the market works. The best quality Judaica is handmade in Israel by Jewish craftsmen, artisans, artists, designers and jewelers. These are almost always people who are following a vocation. 
Whatever their religious or cultural background, Israeli Judaica makers are inspired by thousands of years of Jewish heritage, historical and archaeological artifacts, and the amazing and diverse beauty of modern Israel. Their passion for their art is expressed in their creativity, attention to detail and immaculate presentation. 
Genuine handmade Judaica from Israel is the real thing. It looks amazing and practical items like Shabbat tableware will serve your family for generations. The problem is that some of the 'Israeli Judaica' that's sold online is actually produced in Turkish workshops or in other countries. The standards of the finished products varies, but seldom matches real silver Judaica or designer handcast anodized aluminum items from Jerusalem.
If you want to buy genuine handmade Israeli Judaica, you have two options. The first is to come to Jerusalem and shop in person – we'd love to see you!  The most practical option for most people in the US and around the world is to buy from our Judaica web store. 
Everything on sale in the ICOJ Judaica web store is handmade in Israel, either by our own silversmiths and artisans, or by local Israeli artists. When we work with Israeli artists, we like to get to know them personally and to visit them in their studios and workshops. Israel is a small country and it's easy for us to find the most talented and passionate Judaica designers. 
Renowned Israeli Judaica Artists at ICOJ
The ICOJ Judaica Web store showcases the work of dozens of Israel's best-known and aspiring artists. If you're a fan of Israeli art, or you're just beginning to explore the Israeli art scene, you're in for an adventure at ICOJ!
Buy Personalized Judaica from our Web Store
Any item of Judaica, whether it's a signed artist print of Safed, or a handmade silver Torah pointer, is a special gift. Our silver and anodized aluminum items will become family heirlooms that you can pass on to your children and grandchildren. When you buy Judaica gifts, we're happy to personalize them for you with names, blessings or other dedications. 
When you buy Judaica from the ICOJ web store, there are several options to personalize your gift. Depending on the size and shape of each item, we may be able to offer any combination of engraving, silver stamping or silver beading and colored enamel inlay. We can also explore the possibility of adding gemstones like diamonds, emeralds, amethysts, lapis or other precious stones. 
All the team at ICOJ speak English. If you want help or advice about choosing the perfect Judaica gift, or want to commission a unique design, please get in touch with us. We can work closely with you throughout the design process and will ship to anywhere in the world via UPS.