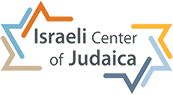 Buy Israeli Art and Photography
Decorate your home or office with an original painting, art print , or photograph by an Israeli artist. The Israeli Center of Judaica is working closely with some of Israel's most talented creative artists. We're showcasing several collections of contemporary Israeli art, including religious and spiritual themes, stunning Israeli landscapes and nature scenes, modern art and historical images.
Whether you're buying out of a passion for art, to support Israeli artists, or as a possible investment, we've got something that will match your tastes.
Buy Fine Art and Original Paintings from Israel's Top Artists
The Israeli art scene is as diverse, exciting and original as Israel itself. The Israeli Center of Judaica has teamed up with over twenty of Israel's most talented and passionate artists to offer a range of original paintings, prints, photos and sculptures. We are proud to offer a full selection of black and white and color photographs, oil paintings, watercolors, and a variety of other traditional and contemporary styles.
Signed prints