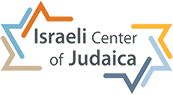 Buy Fine Art from Top Israeli Artists
Decorate your home or office with original art or signed prints from some of Israel's best-known artists. Whether you want to buy Israeli art as a special gift, an investment, or to support the vibrant Israeli art scene, we have something for you.
The Israeli Center of Judaica has brought together some of the country's most talented, passionate and innovative painters, sculptors and jewelry designers. Our online collection of Israeli art is unique and you won't find such an impressive range of artwork anywhere else. Choose from an exciting selection of traditional and Biblical Jewish art, Israeli landscapes and natural themes, and modern Israeli art.
We're proud to showcase the work of so many talented and imaginative Israeli artists. Featured works include, oil paintings and watercolors, 3D glass painting, stone and marble sculpture, cast concrete sculptures, ornate and intricate woodwork, and wrought iron and steel creations.
Buy a Gift of Israeli Art
All the Israeli art on sale online at the ICOJ is chosen and approved by our own buyers. Every item of art is the product of a lot of love, and meticulous attention to detail on the part of the artist. Our traditional and modern artwork is a wonderful wedding present, housewarming gift, or an original present for a friend, valued colleague or member of the community.