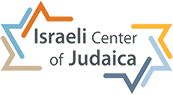 Buy Fine Art from Top Israeli Artists
Decorate your home or office with original art or signed prints from some of Israel's best-known artists. Whether you want to buy Israeli art as a special gift, an investment, or to support the vibrant Israeli art scene, we have something for you.
The Israeli Center of Judaica has brought together some of the country's most talented, passionate and innovative painters, sculptors and jewelry designers. Our online collection of Israeli art is unique and you won't find such an impressive range of artwork anywhere else. Choose from an exciting selection of traditional and Biblical Jewish art, Israeli landscapes and natural themes, and modern Israeli art.
We're proud to showcase the work of so many talented and imaginative Israeli artists. Featured works include, oil paintings and watercolors, 3D glass painting, stone and marble sculpture, cast concrete sculptures, ornate and intricate woodwork, and wrought iron and steel creations.
Buy a Gift of Israeli Art
All the Israeli art on sale online at the ICOJ is chosen and approved by our own buyers. Every item of art is the product of a lot of love, and meticulous attention to detail on the part of the artist. Our traditional and modern artwork is a wonderful wedding present, housewarming gift, or an original present for a friend, valued colleague or member of the community.
Showing 1–16 of 2861 results
Silverware, Sculpture and
Painting by Israeli Artists
The vibrant modern Israeli art scene is producing some stunning works that are attracting attention around the world. Contemporary Israeli art is inspired by thousands of years of Jewish history and culture, and by the astonishing natural beauty of modern Israel. 
Israeli Judaica artists are building a new following in the US and Canada among Jews – and Christians – who want a deeper connection to the Holy Land. Paintings by Israeli artists cover a range of themes and styles, from depictions of old buildings in Jerusalem and Safed, to abstract mystical images and modern glass and 3D painting. 
Israeli Judaica artists aren't just painters. Master silversmiths like Avi Nadav and Nissim Badosa have an international reputation for their handmade silver tableware and ritual items. Sculptors like Yigal Natani and copper smiths like Ahuva Elany are exciting Israeli Jewish artists whose work is redefining the concept of Judaica. 
7 Amazing
Israeli Judaica Artists
There are thousands of talented Israeli Jewish artists producing contemporary Israeli art. We're featuring 7 of our favorite artists who show some of the diversity and richness of the modern Israeli art world.
Avi Nadav
Avi Nadav is a Jerusalem silversmith and designer of Yemenite heritage. He spent years mastering the intricacies of silver filigree work and is a master of his profession. Avi also pioneered the use of sophisticated techniques for working with anodized aluminum. He saw the potential of using the space age material to create designer Judaica and launched a range of designer Shabbat candlesticks, honey pots and other items. 
Avi Nadav is committed to preserving traditional Jewish silversmithing techniques, but is also contributing to modern Israeli art. He is passionate about developing new ideas and loves to explore different cultures and his own Yemenite Jewish heritage. 
Gitty Fuchs
Gitty Fuchs is an abstract painter with the eye of a Jewish mystic. Her paintings display a deep personal interpretation of famous Jewish sites like the Kotel, the Tomb of Rachel and the City of Jerusalem. She also loves to portray Hassidim, natural scenes and traditional Jewish symbols. Gitty Fuchs is becoming a major name in contemporary Israeli art. 
Gitty came to Israel as a child when her parents emigrated from Russia. She was influenced by some of Russia's top artists, as well as modern painting by Israeli artists.An abstract oil painting by Gittly Fuchs is not just an investment, it's also a mesmerizing work of art. 
Ahuva Elany
Ahuva Elany is another Russian immigrant who is transforming the Israeli art scene. Ahuva works in her Rishon-Le- Zion studio where she mastered advanced techniques for heating and crafting copper sheets into complex and beautiful designs. Each sculpture is heated, hammered, embossed and lacquered, before being drilled and decorated with beading. 
Ahuva's stunning 3D sculptures are inspired by her love of nature and deep interest in Jewish history and tradition. She has a special ability to recreate the delicacy of flower petals, trees and leaves in smelted copper and bring her work to life with vivid natural coloring. 
Jean Pierre Weill
Jean Pierre Weill made a life changing decision when he shipped his entire studio to Israel over a decade ago. Jean Pierre is a painter whose canvases are multiple layers of glass plates. He creates astonishing 3D pictures in a variety of styles. Jean Pierre is renowned for his bold images and vivid colors and is a master of modern Israeli art. 
Jean Pierre Weill is an extremely versatile artist who continues to surprise his fans. He's also an extremely confident artist who doesn't hesitate to explore new ideas. His recent glass paintings include comic book superheroes, a whimsical portrait of Audrey Hepburn, children's art, and compelling natural scenes.
Nissim Badosa
Nissim Badosa is a man of contrasts. He began his adult life as a paratrooper in the IDF, but qualified as a master silversmith and devoted himself to creating beautiful silverware. Like many Israeli artists, Nissim draws upon the City of Jerusalem for inspiration. His work captures something of its holiness and mystical traditions. 
Nissim Badosa's silverware is characterized by his intuitive understanding of natural proportions. His best creations rely on the simple elegance of 925 sterling silver, enhanced by finely crafted silver solder decorations. Nissim Badosa is one of Israel's most talented living craftsmen.
Bialika
Bialika is a unique brand owned by the Israeli organization Shavim. Their beautiful ceramic Judaica is handcrafted by people with psychiatric disabilities as a form of occupational therapy. Bialika products are on a par with any professionally designed Judaica and show outstanding creativity and real talent. 
Bialika is earning a reputation among Israeli Judaica artists for their handmade tableware that includes Shabbat candlesticks, Seder plates, menorahs and matzos plates. The designs have a lot of charm, a homely look, and feature some amazing use of color. 
Yigal Natani
Yigal Natani is an Israeli Jewish artist with a technical background. His parents urged him to study as an engineer, but he soon channeled his professional skills into creating some stunning original artwork. Yigal's sculpture methods use plastics, metals and ceramics to create some amazing items of Judaica. He loves to take ancient traditional items like mezuzahs and reinvent them in 21st century materials.
Yigal Natani is best-known for his trademark use of bright, bold colors to create eye-catching works of art. Yigal's home decor range includes hanging ornaments, stunning Pesach plates and wonderful Jewish figurines. 
The ICOJ is creating a home for the most talented Israeli Judaica artists. You can buy their work online in our web store. All our team speaks English, so please contact us if you want to find out more about how to buy Israeli art or want to commission a special item.