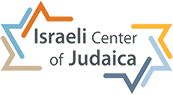 Buy Silver Tallit Clips
The perfect gift for an observant man
Handmade silver Tallit clips are beautiful but dignified accessories that will complement any style of Tallit or prayer shawl. The full range of Israeli Center of Judaica Tallit clips is crafted in our Jerusalem workshop, only a 15 minute walk from the Kotel. When you buy a pair of silver Tallit clips, you can choose from ornate filigree silverwork, delicately wrought geometric designs, or Jewish symbols like the Star of David, Menorah, or Chai motif.
Buy Silver Tallit Clips with a Personalized Design
A Tallit is a deeply personal religious item and a pair of Tallit clips or holders is a wonderful gift. If you want to buy silver Tallit clips as a birthday present or Bar Mitzvah gift, one of our Jerusalem silversmiths will engrave, or craft a name, initials, or other personal motif on the item. Customized Tallit holders will last a lifetime and remind the wearer of the donor every time he prays.
People who buy Silver Tallit Clips also buy Israeli made Tallits
Showing 1–16 of 70 results