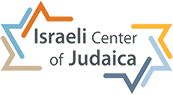 Personalized Jewish Gifts
Personalize Your New Judaica Purchase
The Israel Center of Judaica is happy to personalize your item when you buy fine Judaica from our online store. Most silver and anodized aluminum Items can be engraved with an inscription in Hebrew or English (and other languages on request). Popular inscriptions include blessings, dedications, a Bride and Groom's name on wedding gifts, or family motifs.
The silversmiths in our Jerusalem workshop can easily add your choice of words to silver Kiddush Cups, Candlesticks, Tallit Clips, Torah Pointers and other personal items of Judaica.In addition to custom engraving, we can add English and Hebrew lettering with brightly colored enameled inlay. This is a wonderful way to personalize any gift of Judaica for a child or new baby e.g. 'Yeled Tov' or 'Yaldah Tovah' cups.
Request a personalized item of Judaica or commission a unique private design.