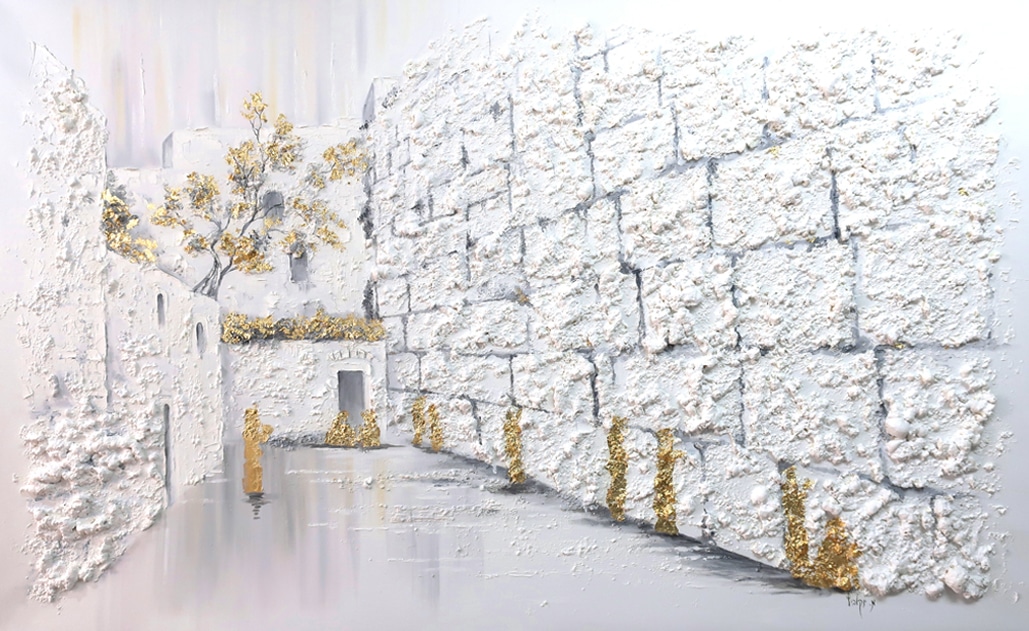 An artistic tribute and celebration of the City of Jerusalem
Menucha Yankelevitch is a world renowned artist and versatile painter who specializes in an assortments of styles and techniques . Nevertheless, she is well known as the Painter of Jerusalem. The ancient city at the heart of modern Israel is her abiding love, constant inspiration – and the subject of many of her art.  Menucha Yankelevitch is a Jerusalemite whose ancestors lived in the city for generations. 
Artists rarely have such a profoundly beautiful source of inspiration to draw upon. 
Yankelevitch sees Jerusalem through the eyes of a painter and perhaps a mystic. She knows and understands the city in ways that others never will, but shares that profound understanding with us through his paintings.
 " As a Jerusalemite for generations, my paintings travel through her with longing and love, looking at the city and its alleys or beyond. In its beauty and glory, in its desolation and destruction."
Yankelevitch is an international artist in demand for more than 20 years! She has presented eight sole artist exhibits, and participated in scores of group exhibits at prominent galleries and museums all over the world.
Yankelevitch paints in oils, acrylics, pastels, and in a variety of traditional, abstract and modern styles. She is one of the very few artists with a range of works that can appeal to almost all art lovers. As well as painting the holy city of Jerusalem, Menucha Yankelevitch explores wider aspects of Jewish history and tradition, and then surprises us with stunning portrayals of natural themes and modern urban landscapes.
Nowadays, Yankelevitch shifts her focus to modern abstract works of art. She has been the first to create Acrylic and Oil paintings with thick textures and golden leaves in Judaica, a style that is taking over the world. She is definitely a trend setter.
Showing 1–16 of 72 results
$

640

$

3,320

-20% OFF

Select options

$

760

$

3,360

-20% OFF

Select options

$

600

$

3,000

-20% OFF

Select options

$

760

$

3,160

-20% OFF

Select options

$

760

$

1,440

-20% OFF

Select options

$

1,040

$

1,200

-20% OFF

Select options

$

720

$

3,360

-20% OFF

Select options

$

760

$

3,160

-20% OFF

Select options

$

760

$

3,440

-20% OFF

Select options