There are many ways to serve Shabbat dinner, but all traditional Shabbat dinners include a Kadosh sanctification and blessing, wine, candle lighting, salt and challah bread. The origins of the Shabbat rituals go back almost 4,000 years. While they've changed and evolved over the centuries, Shabbat dinner traditions are a living link to the ancient origins of the Jewish People and our Biblical ancestors!
We'll take a quick look at the origin of our modern Shabbat traditions, and explain why a weekly Shabbat dinner is more important than ever in a rapidly evolving world. We'll also focus on the key Shabbat items that you need to celebrate an old fashioned Shabbat meal – and some exciting modern versions of Shabbat Judaica.
Shabbat dinner is a meal eaten on Friday night to mark the beginning of the Jewish Sabbath. The meal is usually a festive one, with family and friends gathered around the table. Traditional foods served at Shabbat dinner include challah bread, chicken soup, and roast chicken. The meal ends with a blessing over two candles, which are lit before dinner.
What to Wear to Shabbat Dinner?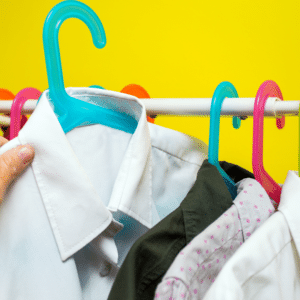 There is no specific dress code for Shabbat dinner, but many people choose to dress up a bit to welcome the Shabbat that comes.
Some women wear dresses or skirts while men might put on a nicer shirt and tie. It's really up to you how you want to dress – just make sure you feel comfortable and festive!
A Brief History of Shabbat and Who Started Shabbat?
According to Biblical accounts in Genesis, the concept of Shabbat is as old as creation. God created the Heavens and the Earth in six days and rested on the seventh. God then blessed the seventh day, sanctifying it as a day of rest there after. The concept of the Sabbath as a sanctified day of rest is intrinsic to the Jewish faith. 
The Bible also provides us with information about the origins of one of the most important Shabbat traditions; the lighting of candles on Erev Shabbat. Around 3,800 years ago Abraham and Sarah wandered the Middle East. They pitched their tents at desert crossroads and offered hospitality to passing strangers of all tribes and faiths. 
A divine miracle occurred in Sarah's tent when her Shabbat lamp continued to burn all week until the following Erev Shabbat. The miraculous light continued for the duration of Sarah's life and ended with her death. The divine light suddenly reappeared when Rebecca married Sarah's son Isaac and came to live in the matriarchal tent. 
Moses also played a pivotal role in the development of our modern Shabbat rituals. Exodus relates how Moses reasoned with Pharoah in ancient Egypt and negotiated a weekly day of rest for the Hebrew slaves. Later, at Marah, God gave Moses the commandments, including the commandment to observe the Sabbath. There are many more references to Shabbat in the Bible, but these illustrate its ancient origin and special place at the heart of Judaism.
How do I Serve Shabbat Dinner?
Every Jewish tradition has its own interpretation of Shabbat rituals and traditions. Modern Jewish families in Israel and North America – and the rest of the Diaspora – also have their own ways of doing things. The form of Shabbat dinner has evolved over at least 4,000 years. Foods, observances and ritual Shabbat items have constantly changed, and, during the turbulent and tragic history of the Jewish people, were frequently dictated by circumstances and necessity.
Why is Shabbat Dinner Important?
Family units are still fairly stable in Israel and extended families and close friends regularly come together for Shabbat dinners and holidays. In the US and the wider Diaspora, the family structure is breaking down (at least outside the Orthodox traditions) and Jewish communities are changing. Social media has created a new generation with a different cultural outlook and its own priorities. A weekly Shabbat dinner is a wonderful way to bring families together for an evening and connect with millennia of Jewish heritage and culture. 
It's not a question of religion or social conservatism, a Shabbat dinner is about human warmth, family and community. In any culture or society, one of the most important and fundamental things we do as humans is to sit together and eat as a family unit. In a modern age of long working hours and commutes, and myriad distractions, a traditional Shabbat dinner, and a table set with Shabbat Candlesticks, Kiddush Cups, and a Challah Board becomes a cultural anchor.
The 5 Main Shabbat Dinner Traditions
Any traditional Shabbat dinner usually includes 5 main traditions. 
Candle Lighting

Singing

Kiddush

Challah

Food*
*(Food is not technically a Shabbat ritual, but good luck explaining that notion to your Shabbat Hostess!)
Lighting the Shabbat candles is traditionally the exclusive responsibility and privilege of Jewish women. The idea dates back to the time when our ancient Jewish ancestors led a nomadic desert existence and lived in tents. The Jewish Matriarchs like Sarah and Rebecca ruled their own tents with a rod of iron and jealously guarded all domestic rituals. Women lit the candles (actually lamps) to mark the arrival of the Sabbath. 
Shabbat candlesticks, and Jewish Candelabras, Menorahs and Hanukiahs have varying degrees of ritual and religious significance. What's important is the actual lighting of the Shabbat candles 18 minutes before the third star is visible in the sky and Shabbat begins. If you only have an old wine bottle to serve as a candle holder, or a tea light to set on a plate, you are still observing the Shabbat tradition. During tougher times, these austere solutions were frequently the only option.
These days, most of us are a lot more fortunate. A set of silver Shabbat candles is a standard household item for most Jewish families in the US. Traditional Judaica Shabbat Candles are usually handmade from 925 sterling silver. They can be inspired by antique Ashkenazi European styles, or Mizrachi Jewish – and particularly traditional Yemenite silversmithing. The Eastern styles often feature elaborate and ornate silver filigree work. Israeli silversmiths love to add Israeli amethysts and lapis for extra decoration. 
Modern Shabbat candlesticks are crafted from almost every material. The most popular materials are anodized aluminum, sterling silver 925 and ceramics. We're also seeing some amazing designs from copper, cast concrete and all kinds of fascinating materials that previously only had industrial applications. If you're a fan of art deco, love minimalism, or bright colors, contemporary Shabbat candlesticks will add the perfect finishing touch to your dining table. They are also versatile enough to use in other rooms, or even on the balcony, patio, or outdoors on a summer evening.
The traditional Shabbat dinner really begins with the recitation of the Kiddush blessing over a cup of wine. The Kiddush blessing is in fact a mitzvah and it sanctifies the Shabbat as a day of rest. It's normal for every participant in the meal, even children, to take a sip from the Kiddush cup. If guests prefer not to drink wine, non-alcoholic grape juice is an acceptable alternative to wine. 
The Kiddush is only a short ceremony, but it's a uniquely beautiful one. It's definitely worth investing in a handmade Kiddush cup to honor the weekly ritual. Traditional Judaica Kiddush cups or Kiddush sets are made of 925 sterling silver and the styles vary. Most traditional silver Kiddush cups are tumbler or beaker designs. These simple shapes would be immediately recognizable to our early ancestors. More luxurious designs explore the tradition of goblets, with a cup and a long stem. 
Kiddush cups are often decorated with Israeli Blue enamel inlay. The enameling can show geometric designs, natural motifs, Hebrew lettering or even esoteric Jewish symbolism and motifs. Other decorations include silver solder lettering and motifs, stamping or engraving. If you want a truly luxurious Kiddush cup, the top of the range products are 925 sterling silver goblet, set with Israeli amethysts and a thin layer of gold plate inside the drinking vessel itself.
Modern Designer Kiddush Cups take creativity to a new level. There were major technological improvements over the last decade and it's become a lot easier for traditional artisans to explore modern materials. A good example is anodized aluminum, which is a specialized industrial product. Imaginative designers saw its inherent beauty and potential for artistic products. Anodized aluminum Kiddush cups bring an ultra-modern look to any Shabbat dinner table. The bold colors and striking designs would amaze our ancient Jewish ancestors.
After the Kiddush blessing, comes the Challah, or Shabbat bread. Some families follow the full tradition of rising from the table to wash their hands between the Kiddush and the Challah, and will even sit in silence until the Challah has been blessed and served. Most modern American families simply slice or tear the Challah and pass it around the table. It's traditional to eat the Challah with a pinch of salt. 
Challah bread for Shabbat (and holidays) is a ritual food and it's worth buying a handmade Challah board and a knife. When you buy a Challah board the first thing you should check is that it's a functional item or tableware. You'll hopefully be using it thousands of times throughout your life, and even bequeathing it to one of your children. You'll need a Shabbat Challah board that is robust and easy to clean. 
It's also a real pleasure to set a beautiful Sabbath table. If you're going to the trouble of laying out a crisp tablecloth, napkins, and gleaming silverware, a colorful handcrafted Challah board is a wonderful addition to the Shabbat dinner table. Most Judaica Challah boards are made of wood, but silver and ceramics are also an option. Israeli designers generally favor bright colors, with Shabbat motifs and Jewish emblems. Natural decorations like grape vines, leaves and pomegranates are very popular. 
Homemade Tableware and Silverware for Shabbat
There's no special cutlery or crockery for Shabbat, but there are beautiful items of silverware like honey dishes, serving trays, wine fountains and liquor sets that will create a Shabbat table fit for a Biblical Jewish palace. Shabbat tableware doesn't have to mean gleaming 925 sterling silver dishes and plates. Modern Shabbat tableware comes in every imaginable style. Influences include contemporary Scandinavian and Japanese designs, minimalism, art deco and even industrial styles. 
It's important to remember that Jewish design traditions evolved over at least four thousand years. Jewish craftsmen, artists, and artisans were influenced and inspired by every tradition they encountered – and are to this day! Modern Israeli designers and silversmiths are fascinated by new ideas and technical innovation. They love to experiment and aren't afraid to fail until they finally achieve perfection. The results are outstanding boutique ranges of modern Judaica and Shabbat tableware. 
What to Bring to Shabbat Dinner?
If you're planning on attending a Shabbat dinner, it's customary to bring a dish to share. This can be anything from a homemade casserole to a store-bought dessert. It's also common to bring a gift for the host, such as flowers or wine.
What can you not do on Shabbat?
There are a few things that are forbidden on Shabbat, or the Sabbath. These include turning on lights, using electrical appliances, driving, and writing. It's also customary not to work or do any kind of physical labor on Shabbat. Instead, people use this day to relax, spend time with family and friends, and attend religious services.
The Top Ten Shabbat Dinner Wishlist
If you want to create a perfect Shabbat dinner table, or you're looking for suggestions to buy Shabbat tableware gifts or Jewish wedding gifts, check out the Shabbat Dinner Wishlist. Most of the items on the Shabbat Dinner Wishlist are also ideal for other Jewish holidays, or any other meal.
All the items on the Top Ten Shabbat Dinner Wishlist are available in traditional and modern styles and will amaze your Shabbat guests. Fine Judaica lasts a lifetime and a Judaica collection will become a family heirloom over time!