Welcome to the amazing world of Jewish jewelry and Judaica. In this article we will embark on a journey. You, the readers, will be able to get the basic information and background of various Jewish ritualistic and classic jewelry. Get ready, for we are about to dive into the collection of the Israeli center of Judaica.
To hear this whole article without effort, please click the Play button
What You Are About to See?
The world of Jewish jewelry is vast, fascinating and contains many symbols. In those jewelry products we see two main motives: incorporation of Jewish symbols and holy numbers and letters. You will be able to find earrings in the shape of a hamsa – a good mark against bad luck, or even the star of David. The conversion of Jewish symbols into jewelry is an amazing way for people to carry their belief. even when they are not busy practicing Jewish traditions, they are still carrying a token of devotion to the religion – in the most beautiful way.
What is Israeli Jewelry?
Israeli jewelry is first and foremost the local art and jewelry work of Israeli artists and smiths. The Israeli Center of Judaica has its own line of jewelry and cutlery for the holidays and such, and the center is also giving local artists the platform to show and sell their art. Israeli made jewelry, in the aspect of design; is converting Israeli sites, holiday toys and many more Israeli–Jewish references into amazing and unique jewelry. For example, a pendent in the shape of the Jerusalem landscape, made from 14 karat gold. Or as another example – a western wall-inspired pendent. There are many more products of Judaica jewelry and Jewish jewelry waiting for you to explore.
Materials of Jewish jewelry
As we all know, jewelry is as valuable as the material it is made of. While sentimental value is extremely important in every present, Jewish jewelry and Judaica is all about high-quality metals. From rose, white and pure gold, 925 silver Judaica and precious natural stones – all of these have great significance in Jewish history and lore.
The great priest of the temple had around his neck a tablet with 12 gems, each one representing a different Jewish tribe. precious metals were considered as presents and a high-quality product of trade. All of these come to life in the coming year, with the most amazing jewelry pieces.
Jewish Pendants and Jewish Necklaces
A necklace is one of the most common and fun jewelry pieces to wear. Because it is a very delicate piece of jewelry, you will be able to find necklaces made of silver and gold in various shapes. As far as pendants go, there is variety beyond sight. From the Star of David pendant, to the pomegranate fruit, all the way to many shapes and holy sights – you can find whatever pendant you would like to hang from your necklace. Judaica jewelry puts the emphasis on externalizing the religious symbol and glorifying it with gems and delicate smithing.
The most common gold Jewish jewelry In Israel is the "Hai" necklace and pendant. 'Hai' is referred to two letters in the Hebrew alphabet and their numeric value is 18 – a holy number that is related to good luck and fortune. You can find various of Gold Chai Necklaces in the Israeli center of Judaica.
For the ladies, there is an endless collection of neck pieces made of white and rose gold, created in the most delicate metal work. From heart gold pendants  to good luck pendants, with gems of all kinds – Judaica jewelry and necklaces are a sight to be seen.
Browse the full ICOJ collection of Jewish Necklaces and Pendants
Jewish Bracelets
Bracelets are somewhat similar to necklaces and pendants. It's all about elegance and combining Jewish symbols in beautiful artwork. However, bracelets in the world of Jewish jewelry are more delicate than the pendants. A bracelet in Judaica jewelry will be fairly minimalistic, yet refined, sterling, and packed with as many gems and stones as possible. A great example is the gold evil eye bracelet. It is a very thin chain of gold with a beautiful eye made of gold and gems, surrounded by gems and diamonds.
Browse the full ICOJ collection of Jewish Bracelets
Jewish Rings
The ring in Jewish tradition is a major role in a man's life. A wedding ring is the most common form of ring we know that has a ceremony and tradition around it. In the sterling silver Jewish jewelry category, you may find beautiful fine rings in a great affordable price. The more you look, you may find beautiful rings with tributes to the star of David, eye of evil, heart shapes and dove shapes – all with great importance in Jewish history. A good example is this simply gorgeous gold hamsa ring.
Browse the full ICOJ collection of Jewish Rings
Jewish Earrings and Cufflinks
The last part of this article is about Jewish jewelry of cufflinks and earrings. In case you didn't know, there are many successful Jewish businessmen all over the world. In addition, suits are a part of the full orthodox Jewish outfit, and the one piece of jewelry that you may fit to your clothes are your cufflinks! Made of silver and gold with gem décor, Jewish cufflinks are a thing, and a thing of beauty!
As far as earrings go, there will be five to ten main designs: the hamsa, mezuzah, eye of evil, star of David, hearts, etc. One stunning example is these stunning Gold and Diamonds Star of David Earrings.  All of these are made of 14 karat gold, white gold, silver, and of course – decorated with gems and diamonds.
Jewelry in Jewish Culture
Judaica jewelry is mainly common among the religious and orthodox families. Not only it shows their love and devotion to 'Hashem', it shows love and affection. Romance is a big part of the bible and the torah, and there is a great deal to be said about the importance of balanced romantic partnerships. The husband needs to shower his wife with jewels and goods as tokens of his appreciation to all of the kindness and positivity his wife brings to his life.
Price Rates
The Israeli center of Judaica has a very diversified range of prices. It may start at less than 100 dollars and can go up all the way to 1,500 dollars. Why is it such a big range? Some jewelry is smaller than other, therefore less material is being used. In Addition, the more gemstones and gold are combined in one piece, the more likely the price will go up.
Do not forget, that many of the pieces shown on The Center's website are handcrafted piece by piece and not produced by the mass. These are truly artisanal pieces, with a Jewish spirit and design and as professional work as possible.
Background Check
In case you didn't know, the art of Judaica jewelry is an art passed down from one generation to another. In Jerusalem, you may find artists and blacksmiths who received their knowledge from the 19th century. Such knowledge comes with a price. Many artists and smiths are destined to remain in that world, and it is their family legacy. One of the most famous Israeli artists from Jerusalem is Avi Nadav. 
See his full Jewish jewelry collection
The artists of Jewish jewelry are important and unparalleled in their importance in the Jewish religion. just like the bible is carrying the history of the Jewish religion, so do those artists – who keep their family's tradition, techniques and values immortal through these creations.
Jewish jewelry For Special Occasions
Jewish jewelry is special. It is not your everyday jewel that you just pick it up at the shop and take it home. These pieces are irreplaceable from the moment they are given to a family member. They turn the special occasions of family and friends into unforgettable, emotional and treasured moments. One may buy Sterling Jewish silver jewelry as a present for a family member's wedding celebration, the birth of a son or daughter, bar and bat mitzvah, recruitment day to the IDF and any holiday within Jewish tradition.
Browse our stunning Jewish Wedding Gifts Jewelry Collection
The Israeli Center of Judaica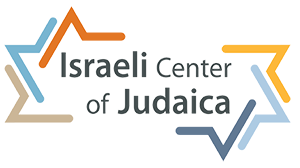 The Israeli Center of Judaica is named 'center' for a reason. In addition to the Center's own line of Sterling Silver Jewish jewelry, you will be able to scope in the website more than 20 Jewish – Israeli artists, silversmiths and goldsmiths. The Israeli center of Judaica offers not only Jewelry but also ceremonial pieces for holidays,
Tallit clips, Plates for Passover, glasses for Kiddush and for Passover Seder and many many more.
Let's Recap
As we said in the beginning, this article is nothing but an opportunity to prepare yourself before you explore the Israeli Center of Judaica's collection. There are so many options. There are so many unique pieces that hold great meaning. As you can understand, every person can find himself fit in every jewelry category.
Some may prefer necklaces, and some will relate more to the rings or even cufflinks. The point is that Judaica jewelry fits every person who accepts the meaning of these symbols and the values within Jewish tradition. It does not matter from which background you are coming from. The Jewish religion is known for its hospitality, and therefore, everyone is welcome, welcome to examine, try out, choose the material and order. A religion's good value may fit each person no matter who he is, as long as he believes in good.